Cubes by MATADOR
MATADOR Cubes are compact mini tool sets that can be flexibly combined, fit almost anywhere and keep things tidy.

All tools in one place.
Unlimited flexibility.
Do you know the following problems?
You have various cases for cordless screwdrivers, small parts and tools, and each time you lug half the workshop to the place of use.
Chaos blooms in your toolbox, you can't find anything again.
You only need a few tools.
You can't find the tool you need.
Your tools are in a different place.
You don't like pre-configured toolboxes because your favourite tools no longer fit in them or they contain tools that you really don't need.
If you find yourself here, we have the solution: MATADOR Cubes.
MATADOR Cubes are compact mini tool sets that can be combined flexibly, fit almost anywhere and keep things tidy.
No searching. No loss. Scratch-proof. Vibration-proof. Directly at the place of use.
For workshop, home and hobby.
For almost every drawer and every box.
Wherever tools need to be stored. Unlimited possibilities. Unlimited flexibility. And still maximum order.
Quality tools with a system.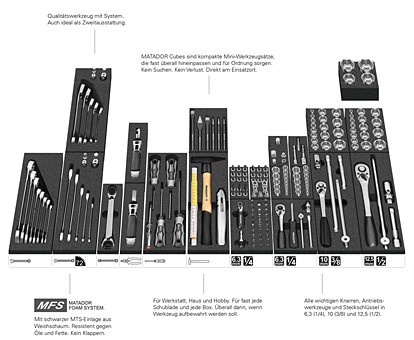 Large Selection.
The MATADOR Cubes have a large selection of different "packages". You can combine as you like and always keep an overview.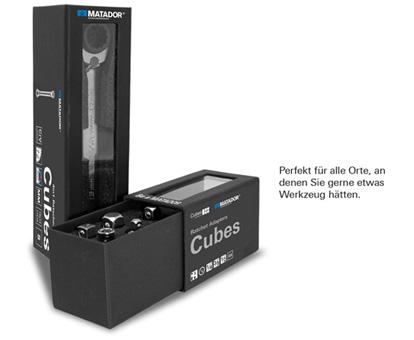 High quality.
Cubes products are delivered in high-quality packaging and the elements supplied can be easily inserted into the Men's Kitchen, for example.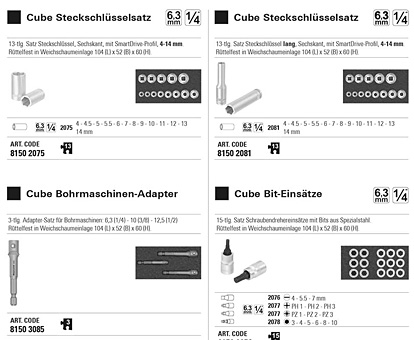 A perfect fit.
The right one for every area. The large selection of Cubes allows you to work individually and precisely, directly at the place of use.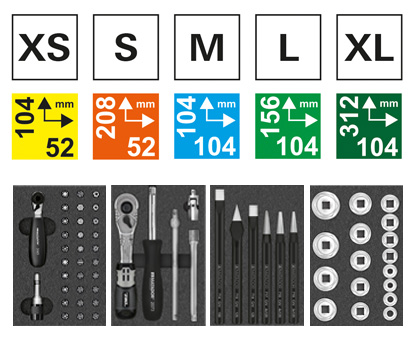 Bits made of S2 material.
The colour coding system allows the required bit size to be determined quickly. All bits are made of high-quality S2 material.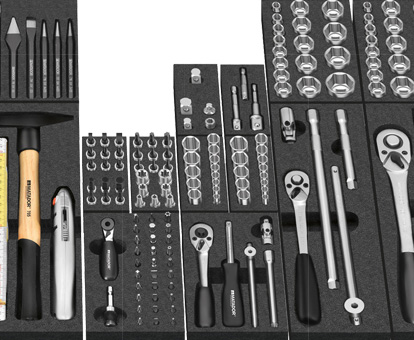 Various modules.
The MATADOR Cube L module with the 32-piece ratchet bit set contains a set that no tool kit should be without.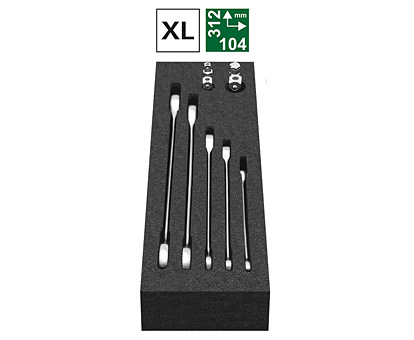 The basic equipment.
The MATADOR Cube XL module with the 5-piece ratchet set contains the basic equipment for working with sockets and connecting parts.

MATADOR is one of the pioneers of the German tool industry. Since 1900 we have been producing quality hand tools "around the screw" at our site in Remscheid, the centre of the German tool industry. Our core competences are spanners, sockets, torque and pneumatic tools as well as modular systems. For screws from 3.2 - 230 mm. Over 4,500 catalogue items. Proven millions of times. Available in >70 countries. For ambitious users in industry, trade and automotive. MATADOR is an accredited initial supplier to leading automotive groups, including Audi, Bosch, Ford, MAN, Mercedes-Benz, Volkswagen, Volvo and many others.